Community Support Systems' Programs
Providing Safety-Net Services (& Beyond) For People In-Need In Our Community
Food Programs
Community Support Systems operates two initiatives to help people in-need
get a variety of nutritious food.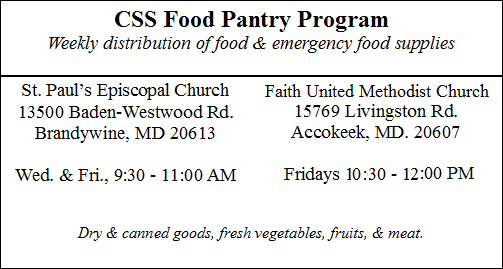 The CSS Advocacy Program
Helping people access essential resources and information, from the simple to the complex.
This includes:
Applying for the Maryland Energy Assistance Program, the Supplemental Nutrition Assistance Program (food stamps), renew medical assistance benefits, the Lifeline Program for free wireless phones, and the Renters Tax Credit.
Transportation to the doctor's, to the Department of Social Services, and for job search.
Coaching and mentoring.
Help for families facing homelessness.
The CSS Assistance Fund
Financial assistance to pay for medications,
purchase fuel,keep the lights on, stay an eviction,
help with essential car repairs,
and the like.
The CSS Shared Senior Living Home
Safe, comfortable, affordable housing
in Brandywine, MD for independent seniors.
Rent is assessed based on income
and ranges from $200 to $400 per month.